Donations
Help make a difference to the life of a young person experiencing mental ill health and donating to headspace.
Your Donation makes a big difference
Thanks for choosing to support headspace! With your help, we're able to develop more wonderful, impactful initiatives for young people.
While we receive some funding from the government, there's so much more we can do with extra financial support. So, donations are warmly welcomed. They enable us to run additional activities at headspace, which would otherwise be impossible.
Your generous donation will help headspace continue to:
Promote – at a national level – the importance of young people to seek help for mental ill health


Break down the stigma associated with mental ill health


Make sure every young Australian knows there is help available.

"We chose to raise awareness and funds for headspace as we wanted to help others facing similar challenges"
- Sophie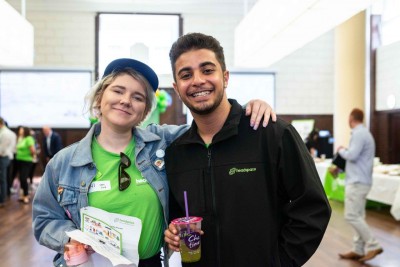 By donating to headspace and allowing us to continue this important work, you're helping us make a difference in the lives of young people in Australia who seek our support and services every day.
We're thrilled that you care so much for our cause! Read on to learn how you can donate now.
How to donate
There are a few simple ways you can donate and make a difference today.
Make a direct transfer from your account using the following account details.


Bank: ANZ


Account Name: headspace National Youth Mental Health Foundation


BSB: 013 006


Account Number: 439102847


Description: Insert name of Individual/workplace/school/community group


Email your donation details to fundraising@headspace.org.au to ensure you're issued with a tax deductible receipt.
Send a cheque made out to headspace National Youth Mental Health Foundation:
Fundraising
Level 2, South Tower
485 La Trobe St
Melbourne VIC 3000
Including a gift to headspace in your will ensures that your support for young people's mental health and wellbeing will leave a lasting legacy. Your gift is used to drive headspace initiatives and advocacy work around Australia, encouraging young people who are experiencing mental ill health to seek help early.
If you'd like to leave a gift in your will for headspace, please obtain independent legal advice first.
Support your local headspace centre
Donations are generally made to headspace national office, where we then decide what initiatives and activities they should be directed towards.
However, some people prefer to donate to their local headspace centre. To do this, please contact your local centre and ask to speak to the Centre Manager or Community Awareness Worker.
Why ask for donations when headspace is funded by the government?
Great question! While the Department of Health continues to fund headspace services, we need additional funding to continue the level of community awareness and engagement that we've had in the past. This extra fundraising allows headspace's national office to continue promoting the importance of seeking help for mental ill health.
Is there a minimum donation amount?
There's no minimum donation amount. Just remember that any donation over two dollars is tax deductible.
Does headspace have charitable status?
Yes, headspace National Youth Mental Health Foundation is a registered charity in Australia (ABN 26 137 533 843). We also hold Deductible Gifts Recipients (DGR) status.

Need help with your donation?
We'd love to chat about your donation, and answer any questions you may have. If you'd like to speak to someone about donating or fundraising for headspace National, please reach out to us at fundraising@headspace.org.au.