corporate partnerships
headspace partners with organisations that demonstrate shared value and together we support the mental health of young people
We can do more in partnership with you
One in four Australians aged between 16 and 24 are faced with mental health disorders, like depression and anxiety. These young people may be our own colleagues, friends, children, students, employees or relatives. That's why the work that headspace performs in offering support to young people with mental ill health resonates with so many organisations and workplaces across the country.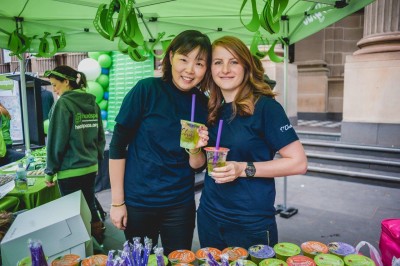 Partnering with headspace presents an exciting opportunity to put your organisation's values and beliefs into practice. If you're passionate about supporting young people, you can work with us to drive specific mental health-focused projects and initiatives.
headspace corporate partnerships allow us to develop and pilot fantastic new programs to support the mental health of young people.
If you're interested in a national partnership with headspace, please complete the partnership enquiry form.
If you're looking for a local partnership, opportunity please contact your local centre to learn about specific centre partnership opportunities.
If you're looking for opportunity to support headspace, learn more about becoming a Program Supporter through participation in the headspace Career Mentoring Program. Find out about how you can engage your employees in a meaningful and impactful volunteering experience.

"We value the expertise that headspace brings to the mental health space, they work closely with us to ensure our mental health program and initiatives are best practise"
- Neesha - NRL
Become a headspace partner
We're so privileged to work in partnership with some of Australia's leading organisations to help support young people and raise awareness of youth mental ill health. Our corporate partners have enabled us to successfully launch and run a range of incredible initiatives over the years, which have benefitted thousands of young people.
When you partner with headspace, you're doing an amazing thing for Australia's youth community! We can achieve so much together, and there are a range of benefits for your organisation too. Partnering with headspace may help you achieve your Corporate Social Responsibility targets and we can work with you to tailor a partnership that is based on shared value.
Get in touch
To enquire about a national corporate partnership with headspace, fill out a partner enquiry form.
If you'd like to partner with your local headspace centre only, please reach to the centre directly.